Our tribute to that marvelous Ed Wood movie:
Plan 9 From Outer Space
(Special guest stars: Scully and Mulder)

And now for your consideration: It started out innocently enough, dinner for five. Friends eating al fresco on the diving board next to the golf course. The Tidewater Humidity Festival was in full swing. A pizza pie entree' with AFs and some vacationing cartoon figures. The last of the summer vacations. Or was it? Welcome to the Twilight Zone.

Illya, must you be such a pig?
SpongeBob: aaaaahhhhh… PEPPERONI! I love PEPPERONI!

Please state the nature of the medical emergency.
Goddard: Grrr… grrr… iiitttt's BACON!
Napoleon:  A karate chop for you, Illya, if you don't holster the pizza!!!!

As usual, we have a bit of a mess.
The Tick: Well Jimmy Neutron, it's now JUSTICE for Pizza and now we can have our little slice of alright!

Mmmmm….
Ah yes, Jimmy Neutron, this is a slice of VICTORY, yes, victory from the bonds of gluttony! Time to eat!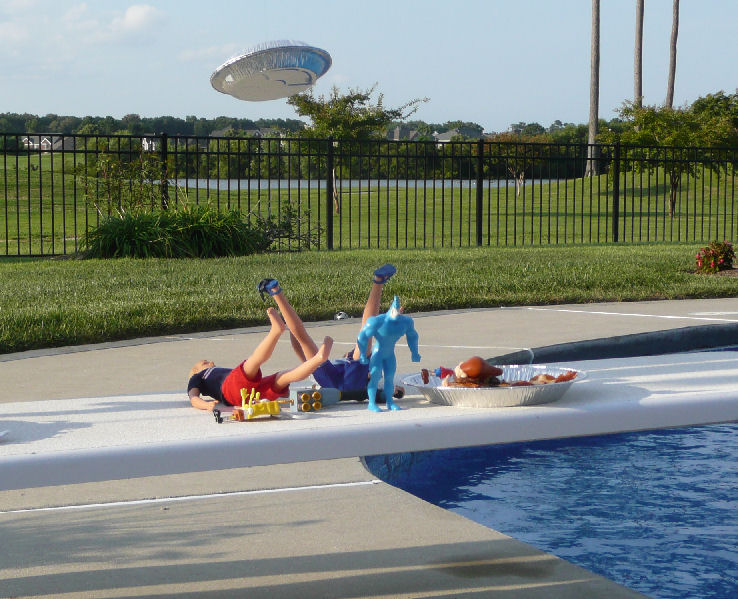 Pie plate in the sky?!
The Tick: What in the name of Pizza Hut is that??

Oh no! It's a flying saucer!

It's landed! (in honor of Ed Wood, a bad continuity error!) Are those Pigs From Space coming down the stairs?

Pigs! From Space!! Pigging out on our pizza!!

The alien life forms emerge from the flying saucer. Are they from Space… 1999?

Communicating with the mother-ship… after all, they did use pizza cutters as communications devices in the future. (Because we all know that pizzas are extinct in the future.)

At last… here come Scully and Mulder to investigate!

Thanks for coming with me one more time, Scully.

Oh, Mulder – I'm not here for you… I'm here for Michael J. Nelson, Head Writer!

Then I'm hijacking this flying saucer to see if I can find my sister!

Good luck with that, Mulder. I'm off to Hopkins, Minnesota to find my one true love, Michael J. Nelson, Head Writer. Oh yes, he will be mine…

To infinity and beyond!